Guest Artist Program
The YAHS Guest Artist Program gives students an opportunity to interact one-on-one with today's top artists in lessons, masterclasses, and informal talks and mentorship experiences. Guest Artists often reside on campus and participate in meals and many other daily activities. Masterclass and concerts are open to the public.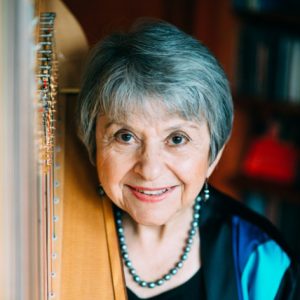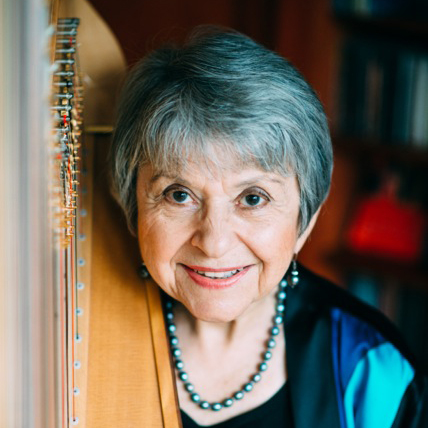 Judy Loman
We are thrilled to welcome back Judy Loman as a 2020 YAHS Guest Artist. Recognized as one of the world's foremost harp virtuosos, Judy Loman graduated from the Curtis Institute of Music, where she studied with the celebrated harpist, Carlos Salzedo. She became Principal Harpist with the Toronto Symphony in 1960.
As a soloist, Judy Loman has won the admiration of audiences and critics alike across Canada, the United States, Europe and Japan. The Toronto Symphony has featured her as soloist on several tours and she has appeared as guest artist with numerous other orchestras and ensembles worldwide. She has participated in many of North America's music festivals and several of her performances have been filmed by Rhombus Media and aired on public television.
A prolific recording artist, her most recent CDs include Judy Loman Favorites, (Marquis Classics); Illuminations, (Marquis Classics); Dance of the Blessed Spirits, Romantic Music for Flute and Harp with Nora Shulman, flute, (Naxos); Harp Showpieces, (Naxos), A Baroque Harp, (Marquis Classics) and Musique de chambre française, (Marquis Classics). She has also recorded for the RCA, Columbia, CBC, (Canadian Broadcasting Corporation), Centrediscs, and Aquitaine labels. Through these projects, she has been a recipient of Canada's Juno Award for best classical recording and the Canada Council's Grand Prix du disque Canadien.
In addition to performances of traditional harp repertoire, Ms. Loman has commissioned several new works for her instrument by Canada's foremost composers, including John Weinzweig, R. Murray Schafer, Glenn Buhr and Kelly Marie Murphy. She has introduced these compositions worldwide through her recordings and recitals in North America, Europe, Israel and Japan. Always seeking to add to the harp repertoire, she is active in transcribing classical and baroque works for the harp from the piano repertoire, as well as arranging folk and Christmas music for voice and harp.
Ms. Loman has been a featured recitalist at several American Harp Society Conferences and for the World Harp Congress. She gave the opening recital for the American Harp Society's Millennium Conference in 2000. A highlight of this concert was the World Premiere of Kelly Marie Murphy's "Illuminations", commissioned for Ms. Loman by the Canada Council of the Arts. Her appearances with the World Harp Congress were in Paris, France, Tacoma, Washington, and Dublin, Ireland, where she performed R. Murray Schafer's Harp Concerto, Glen Buhr's Concerto for flute and harp, and Kelly Marie Murphy's Harp Concerto, respectively.
A dedicated teacher, Judy Loman is Visiting Artist at The Curtis Institute of Music, Adjunct Professor of harp at the University of Toronto, and instructor of harp at the Toronto Royal Conservatory of Music. She gives master-classes worldwide and has adjudicated at the International Harp Contest in Israel, the USA International Harp Contest and The Vera Dulova International Harp Competition in Moscow, as well as composition competitions and young artist competitions held by the American Harp Society and the Fukui Festival.
In June of 2002 Ms. Loman retired from the Toronto Symphony Orchestra to devote her time to teaching, recording, concertizing and the publishing of her arrangements and transcriptions. To celebrate this new turn in her career the Toronto Symphony Orchestra and the Canadian Broadcasting Corporation commissioned a new work for harp and orchestra by the Canadian composer, Kelly-Marie Murphy which she premiered on June 12th. 2002. Ms. Loman recently received a grant from the Ontario Arts Council for a new piece for Flute, Viola and Harp Trio by Kelly-Marie Murphy. She performed the world premiere of this trio at her opening recital for The World Harp Congress held in Vancouver in 2011.
Judy Loman continues to teach, perform and record. For her 80th birthday she published a CD collection of all of R. Murray Schafer's 7 works for harp. She is currently working towards completing a recording of all the pieces that she loves and hasn't recorded as yet. She is a Fellow of the Royal Conservatory of Music and was honoured to become a Member of The Order of Canada in 2015.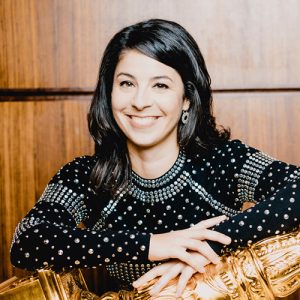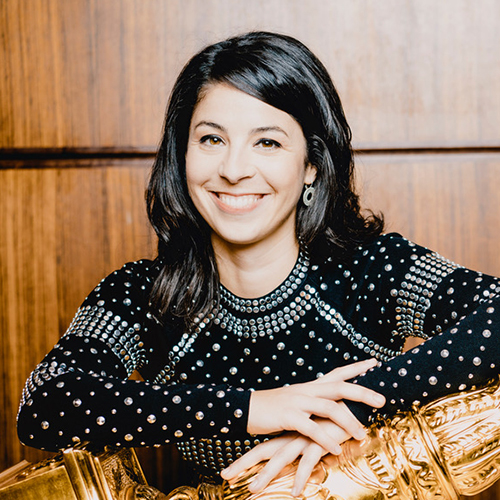 with special guest
Anneleen Lenaerts
Belgian harpist Anneleen Lenaerts is one of the leading soloists of her instrument. In December 2010 Anneleen was appointed Principal Harpist of the Vienna Philharmonic.
Anneleen won an impressive amount of prizes at international harp competitions. Between 1997 and 2010 she gained not less then 23 highly important prizes of which the "Grand Prix International Lily Laskine", one of the most prestigious harp competitions in the world, and the ARD International Music Competition in Munich are particularly outstanding. At the latter, she was both a prizewinner and winner of the Audience Prize.
As a soloist Anneleen has performed with the Symphony Orchestra of Bavarian Radio, the Mozarteum Orchestra, the Philadelphia Chamber Orchestra, the Polish National Radio Symphony Orchestra, Collegium Musicum Basel, the Brussels Philharmonic, and the National Orchestra of Belgium amongst others.
Anneleen Lenaerts has made her solo debut at venues such as the Wigmore Hall in London, Carnegie Hall in New York, Salle Gaveau in Paris, Grosses Festspielhaus in Salzburg, Bozar in Brussels and in festivals such as Rheingau Festival, Lockenhaus and Aspen Music Festival. Solo appearances have been recorded by various stations including BBC 3, Radio France Musique and Deutschlandfunk.
Anneleen's latest recording for Warner Classics includes three of the most important harp concertos from the 20th century by Joaquín Rodrigo, Reinhold Glière and Joseph Jongen. She is accompanied by the Brussels Philharmonic and conductor Michel Tabachnik.
She received the Flemish Government 2004 YoTaM scholarship (Young Talented Musicians). In 2006 she was awarded the 'le Prix Culturel International de la Jeunesse " by the Governor of Basse et Haute Normandie. In 2007 she was granted a scholarship of the Artistic Foundation Mathilde E. Horlait-Dapsens and in 2008 she received the Lunssens and van Straelen prize for her remarkable results at the Conservatory of Brussels. In 2010 she became a laureate of the Paris' "Fondation Groupe Banque Populaire".
Anneleen Lenaerts started playing harp with Lieve Robbroeckx. She continued her studies at the Conservatories of Brussels and Paris in 2008 and gained her Harp Master degree with highest distinction. She completed through the "Cours de perfectionnement" at the Ecole Normale de Musique de Paris with Isabelle Perrin. Besides harp Anneleen studied harmony, counterpoint and fugue at the Brussels Conservatory.
Anneleen forms a duo with clarinetist Dionysis Grammenos. Her work with oboist Karel Schoofs has resulted in a CD of works by French Impressionist composers. Her first solo CD for Egan records was released in 2008. In April 2011 a new solo album was released on Aliud Records. It comprises twelve transcriptions of some of the most popular piano pieces by Chopin and Liszt. Whilst the Romantic lyricism of these works can be considered as predestined for the harp, it is the virtuoso aspect which gains particular attraction thanks to Anneleen Lenaerts' art of playing and articulation.
Marguerite Lynn Williams
Principal Harp, Lyric Opera of Chicago
"I'm excited to work with the younger harp generation who are brimming with energy and creativity!" Principal Harpist of the Lyric Opera of Chicago, Marguerite Lynn Williams has performed extensively throughout the United States, Europe and Asia as soloist, chamber musician and with some of the World's greatest Orchestras.  She is the Principal Harpist of the Chicago Philharmonic and Ars Viva Symphony, a founding member of International Chamber Artists, Lyrica Trio and the Chicago Harp Quartet.  Ms. Williams has won numerous National awards including the American Harp Society's National competition in 1996 and 2009, the Anne Adams Award in 1997 and 1998, Young Arts Foundation, National Federation of Music Clubs, American Opera Society, and Sigma Alpha Iota.   She has appeared as a featured performer and lecturer at American Harp Society conventions and at the World Harp Congress in Vancouver as well as served as judge for both the American Harp Society and Young Artist's Harp Competitions.  Ms. Williams founded the Chicago Harp Ensemble in 2010, and has been the Director for 5 successful seasons.  She is Head of the Harp Department at Roosevelt University, on faculty at Trinity International University and has a large private studio.  Along with being a passionate pedagogue, she is an avid arranger of harp music especially for harp ensemble.  Read more about her at mlwharp.com
Katie Buckley
Principal Harp, Iceland Symphony Orchestra
"I look forward to hearing what the next generation of talented harpists has to offer in such a beautiful setting." Contemporary music enthusiast Katie Buckley is Principal Harpist with the Iceland Symphony Orchestra. She is a founding member of Duo Harpverk with percussionist Frank Aarnink. To date, Duo Harpverk has premiered 120 pieces and have released two studio albums. They premiered the concerto 'Poltroons in Paradise' by Stewart Copeland in June, 2015 with the Iceland Symphony Orchestra. Katie often records as a part of the Bedroom Community music label and has been featured on numerous pop albums and movie soundtracks. Katie performs as a soloist and chamber musician throughout Iceland, Europe, and the United States.