Young Artist's Harp Seminar
Where harpists come to play!
Explore our programs
YAHS offers programs for harpists at various ages, levels, and stages of musical development. Join us in 2021 for 10 days of learning with world class instructors and Guest Artist Judy Loman! Plus, we've added a new program exclusively for adults.
YAHS students come from throughout the US and abroad. Most are very serious about the harp and want to meet others who share their passion. Many go on to careers in music or related fields, while others continue to keep the harp an important part of their life as they pursue careers outside music. The Prep program offers a less intensive experience for lever or pedal harpists who want to get to know the instrument.
faculty
YAHS and Prep faculty and guest artists include some of the best performers and teachers from around the world. Current YAHS faculty members include (l. to r.) co-founders Susan Bennett Brady and Kimberly Rowe; Angela Schwarzkopf, Emily Levin, Katherine Siochi, and Ellie Kirk; and Prep faculty Katie Andrews and Kristi Shade of Duo Scorpio.

Judy Loman
2021 Guest Artist
Judy Loman returns to YAHS as our 2021 Guest Artist. Recognized as one of the world's foremost harp virtuosos, Judy served as principal harpist with the Toronto Symphony for over 40 years, and is now in demand as a teacher worldwide.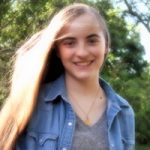 Lydia
"YAHS has prepared me to become a better harpist in so many ways, from mock orchestra auditions to hours of ensemble experience. Being surrounded with incredible peers, teachers, and guest artists for two weeks gave me the chance to better notice technique and learn to play with more confidence. The activities are always amazing, and it's a great way to make life-long friends. Plus, Kenyon college is beautiful, and exciting!"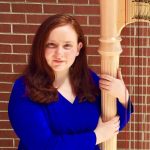 Lily
Siochi Scholarship recipient
"I loved going to YAHS because it was such a special experience being with so many amazing harpists. The faculty and musical opportunities are absolutely wonderful and I'm so grateful I went."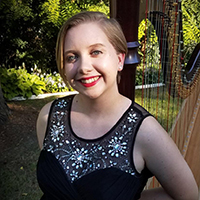 Zoe
"My favorite musical memory at YAHS was the masterclass with Nancy Allen. She has been one of the harpists I have looked up to since I began playing and it was an honor to play for her. With it being the first masterclass I have played at, I was very nervous but she was very helpful and full of ideas to help me bring out my abilities."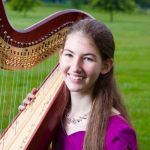 Krista
"My favorite part of YAHS was the variety of performance opportunities. I enjoyed the numerous different types of performance experiences from masterclasses to audition preparation and everything in between. YAHS is perfect for developing essential performance skills as a harpist."
Purchase the YAHS Cookbook!
Have you ever wanted to know what Judy Loman likes to cook in her spare time? Well now you can! The Young Artist's Harp Seminar Cookbook is full of over 120 recipes from YAHS faculty, guest artists, alumni, and friends. From salads to cakes, discover what your favorite harpists are preparing in their kitchens!