Young Artist's Harp Seminar
Susan Brady
Co-Founder • Artist Faculty
A graduate of the Curtis Institute of Music, Susan Bennett Brady performs extensively in the Southeast and Atlanta area as a classical freelance harpist, concerto soloist and recitalist. Ms. Brady is the principal harpist in the Atlanta Opera and Columbus Symphony Orchestras. She also serves as solo harpist for the Atlanta Boy Choir and several area churches. She was primarily taught by Marjorie Tyre and Marilyn Costello. In addition to her performance duties, Ms. Brady is the founder and director of the Atlanta Harp Ensemble for which she also writes and arranges music. She is Professor of Harp at the esteemed Schwob School of Music at Columbus State University. Ms. Brady currently has one of the highest regarded private harp studios in the country. Many of her students participate in youth orchestras outside of school, receive substantial college scholarships, are international prize winners, and have pursued professional harp careers. Ms. Brady is also an active member, performer and presenter for the American Harp Society.
Kimberly Rowe
Co-Founder • Artist Faculty
Kimberly Rowe is best known as the founding editor of Harp Column magazine, a publication read by harpists around the world. Following a move overseas in 2015, she became Harp Column's web editor, expanding the company's online presence to include Harp Column Music and Harp Column Academy. Currently residing in Boston, she continues to develop the business online. A Philadelphia native, Kimberly taught and performed throughout the mid-Atlantic region for many years, including frequent concerts with The Philadelphia Orchestra. She has also performed with orchestras in the South Moravia region of Czech Republic. Kimberly is a co-founder of YAHS and has also been a faculty member at Temple University, the National Music Festival, the Curtis Institute of Music Summerfest program, and the Saratoga Harp Colony. Kimberly attended the Cleveland Institute of Music where she received Bachelor and Master of Music degrees as a student of Alice Chalifoux.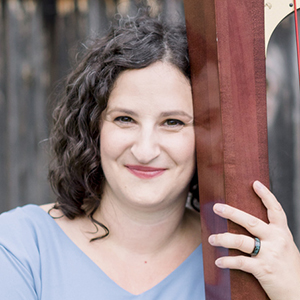 Angela Schwarzkopf
Director of Development • YAHS Faculty
Canadian native Angela Schwarzkopf concertizes throughout North America as a soloist, chamber musician, and orchestral harpist and with many top chamber music, choral, and orchestral organizations. The first harpist to receive a Doctorate of Music in harp performance in Canada, she is now teaches at the University of Toronto, the Glenn Gould School, and at McMaster University. Outside of her university teaching, Angela maintains a thriving studio of private students in Toronto and is a newly appointed harp examiner with the Royal Conservatory College of Examiners. Angela is a Director at Large for the American Harp Society and a contributor to the international publications Harp Column and the American Harp Journal and serves on the editorial board of the latter. As an advocate for new music, she has worked on commissioning projects with many prominent composers. Most recently, Angela released her album, detach, of all new Canadian music.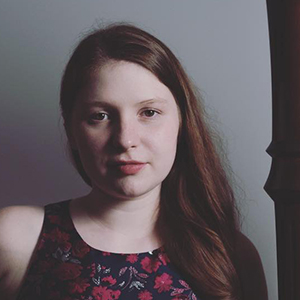 Ellie Kirk
YAHS Faculty
YAHS alumni Ellie Kirk serves as the Principal Harpist with both the Illinois Symphony Orchestra, and Civic Orchestra of Chicago. Season highlights from the past year include guest principal appearances with the Chicago Symphony Orchestra and Fort Wayne Philharmonic, the Ring Cycle at the Lyric Opera of Chicago, and a Midwest tour with the Chicago Harp Quartet. Ellie is a founding member of 5th Wave Collective, a Chicago based classical music ensemble dedicated to the performance and promotion of music by women, where she performs and works as development director. She is a passionate educator, teaching in her private studio, and as Harp faculty at The People's Music School in Chicago. Kirk holds degrees from Chicago College of Performing Arts, and Columbia University; her major teachers are Sarah Bullen, Lynn Williams, and June Han.
Emily Levin
YAHS Faculty
Emily Levin is the Principal Harpist of the Dallas Symphony Orchestra and Bronze Medal Winner of the 9th USA International Harp Competition. As a soloist, Emily has performed at the World Harp Congress in Ireland and the Netherlands, with the Jerusalem Symphony Orchestra, the Colorado Symphony, the Louisiana Philharmonic, the Colorado Chamber Players, and Indiana University and the Aspen Music Festival as the harp concerto competition winner. She was a Harp Fellow at both the Aspen Music Festival and the Tanglewood Music Center, and a Guest Artist of the USA International Harp Competition concert series. Emily has degrees from Juilliard, where she studied with Nancy Allen, and Indiana University, where she studied with Susann McDonald.
Katherine Siochi
YAHS Faculty
Praised by the New York Times as "excellent," Katherine Siochi is an internationally acclaimed harp soloist and principal harp of the Kansas City Symphony. From 2017 to 2019, she served as principal harp of the Sarasota Orchestra. Siochi won the gold medal at the 10th USA International Harp Competition in 2016, one of the world's most prestigious harp contests, and she is only the second American to win the prize since 1989. She has received numerous awards in national harp competitions as well, including first prize in the American Harp Society's Advanced and Young Professional divisions. From 2015 to 2017, she was concert artist for the American Harp Society, presenting recitals and masterclasses in 23 U.S. cities. As an orchestral musician, she has appeared in Carnegie Hall, David Geffen Hall and Alice Tully Hall, and she substitutes frequently with the New York Philharmonic. As a soloist, she has performed extensively across the United States and in Hong Kong, China, and Israel. Siochi holds bachelor's and master's degrees in harp performance from the Juilliard School, where she studied with Nancy Allen.  Read more about Katherine at www.katherinesiochi.com.
Kathryn Andrews
Prep Faculty
Kathryn Andrews is an active performer and educator in New York City and has performed with a wide range of artists including Florence + the Machine, Warren Haynes, Il Divo, American Idol Clay Aiken, the Irish Tenors, Marvin Hamlisch, Joe Lovano and Jane Monheit. She is currently the principal harpist for the Broadway revival of Rodger's and Hammerstein's Carousel starring Renée Fleming. She has played on the Broadway productions of Hello, Dolly!, Wicked, Rodger's and Hammerstein's Cinderella and The Fantastick's. Kathryn performs regularly with the Manhattan Camerata, Bronx Opera and The West Point Band. Kathryn has recorded with some of the finest jazz musicians in New York City including albums with Dan Weiss and Matthew Mitchell (Pi Records). Kathryn is a founding member of Duo Scorpio who has commissioned many notable living composers to write pieces to enhance the harp duo repertoire. Duo Scorpio has performed all around the world including the World Harp Congress in Hong Kong (2017) and Sydney (2014). In 2009, Kathryn was a prizewinner at the Bel Canto Institute Opera Festival in Florence, Italy. Kathryn holds degrees from Manhattan School of Music (Master of Music/Orchestral Performance), Mannes: The New School for Music (Master of Music) and University of Delaware (Bachelor of Music). Read more about her at www.kathrynandrews.com.
Kristi Shade
Prep Faculty
Kristi Shade is a harpist based in New York City, where she maintains an active performing schedule and a private teaching studio. Kristi is the Principal Harpist with The Chamber Orchestra of New York, with which she has recorded three albums on the Naxos record label. She is a member of the flute-viola-harp trio, Hat Trick, and the harp duo, Duo Scorpio. Kristi has performed on Broadway for several shows, including Carousel, Hello Dolly, Cinderella, Wicked, A Little Night Music, Gypsy, and The Apple Tree. She has collaborated and performed with artists such as Florence + The Machine, The All-American Rejects, The Killers, Sigur Rós, John Legend, Carlos Santana, Patti LaBelle and Sean Lennon. She holds degrees from the Manhattan School of Music (Master of Music) and the University of Miami (Bachelor of Music). She has been on faculty at the Manhattan School of Music Precollege Division since 2007 and served as the Vice President of Metroharp, the New York Chapter of the American Harp Society, from 2010-2015. Read more about her at www.kristishade.com.