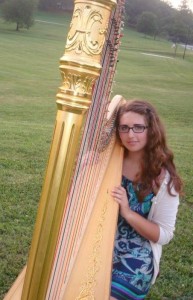 This month's alumni profile is Anya Garipoli, who attended YAHS from 2010–2013. The 15-year-old harpist is now attending high school at Interlochen Arts Academy.
Why did you choose YAHS and come back year after year as a repeat student?
I chose to come back year after year because of how much the seminar helped me grow as a musician and the awesome friendships I've acquired and looked forward to every summer.
Give us a little background of your harp history, i.e. when you started, who you studied with, when you got a pedal harp, etc.
I started harp when I was 8 years old, and studied with Barbara Biggers for seven years. Eventually when she moved to Texas, I began studying with Elizabeth Hainen. I've enjoyed being a member of the Temple Prep Harp Ensemble under the direction of Kim Rowe for three years, until this past year when I was accepted to Interlochen Arts Academy. I've been playing pedal harp for about five years now. I've entered three successive competitions of the Philadelphia Chapter of the American Harp Society and received first place in 2008, second place in 2010, and first place in 2012. I've been a finalist for the Young Artist's Harp Competition, and I was first harpist in the New Jersey State Youth Orchestra for two years until going to Interlochen.
Give us some examples of great musical experiences at YAHS.
YAHS has many many fantastic musical experiences and classes to offer. Some of my favorites were always the mock auditions and masterclasses. I always looked forward to the orchestral excerpt class where everyone would gather in the common room and play. The information and guidance I received was always so helpful, and I know it will still be useful throughout my career some day. Another activity I remember being so significant was the "Be A Star" classes, where everyone performed on stage and was then critiqued afterwords during the recordings we watched of the performances—what good laughs and advice everyone got out of it!
Give us some examples of great social/recreational activities at YAHS.
Every year at YAHS I always looked forward to tubing down the river with all my friends: an afternoon off from hard work to just sit lazily in a tube! What could be better!?
What are you doing now with the harp?
Through a spur-of-the-moment invitation, I got accepted to Interlochen Arts Academy right before the beginning of this school year, and here I am now! It is my first year at Interlochen, and I enjoy being surrounded by all different forms of art and dedicated students who understand how important art is. I am currently studying under Joan Holland and also in the academy orchestra, playing Kabalevsky's Overture to Colas Breugnon, Mark O'Connor's Improvised Violin Concerto, and the Bernstein's Divertimento for Orchestra. During winter, I am hoping to perform the Nutcracker with the band.
How do you feel YAHS prepared you for Interlochen?
I've learned to better my stage presence so much through my summers spent at YAHS. YAHS has introduced me to so many musical situations that I didn't even know existed- for example, my first time ever playing in a harp ensemble was during my first summer at YAHS! YAHS has aided in guiding me to options I never even knew I had an intense love for. Honestly, I can say I am a more mature musician because of my time spent at Young Artist's Harp Seminar.